Looking for the best ecommerce platform for dropshipping business, lets start with overview.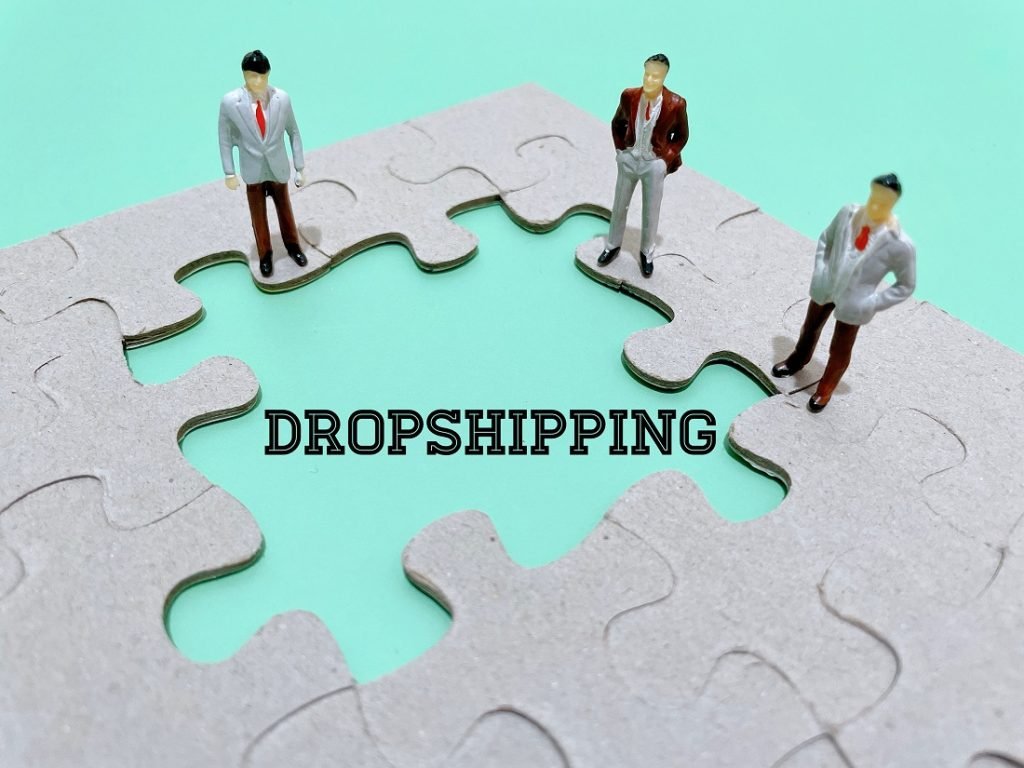 Overview About Dropshipping
For traditional trading, the stores will import products from a/ several suppliers sell those on the website. When the customer places an order, the store will ship the items from directly from their inventories to the purchaser. Then, when the products are (about to) out-of-stock, the stores must import more items from the providers.
Dropshipping is a totally different way of running the business.
With dropshipping, there is no need to keep the products available in the stock. The store can still display and advertise the items from suppliers (dropshipping suppliers) on their website without importing the products from the beginning.
When there is a new order on the site, the store owner/ admin will manually forward that order including purchased item and buyer information to the dropshippers (this process can be automatic also). Then, the dropshippers will be responsible for the remaining steps of order fulfillment (packaging and delivering).
There are many advantages in operating this kind of business such as ease of setup, low cost to start an online business, minimized overhead costs, location independence, various types of products to sell, and high scalability. Therefore, it's immensely suitable for startups or businesses that are looking for product variation and flexibility.
On the flip side, there are still several disadvantages of dropshipping that you should keep in mind, for example, low profit margin, no control over product quality and quantity in stock, uncontrollable shipping costs, and high competition.
Best ecommerce platform for dropshipping
Examples of Dropshipping
Dropshippers/ dropshipping suppliers: AliExpress, Alibaba, MegaGoods, Wholesale Central
Dropshing services: Dropship Direct, Wholesale2B, Doba, Oberlo, Salehoo
Dropshipping businesses: Wayfair, Missguided, Haus, Helly Hensen, 6 Dollar Shirts, SoAesthetic, Karat
How To Start A Dropshipping Business?
To start a dropshipping business, the first step is to select the target market and the products you want to sell. The second step is carefully choosing your dropship supplier. The third step is deciding your proper ecommerce platform for dropshipping. While some people prefer selling on eBay, Amazon, others want to pick a reliable ecommerce platform and develop a unique website to sell their selected products.
How To Select The Most Suitable Dropshipping Ecommerce Platform?
Now there are a lot of eCommerce platforms for dropshipping business owners to choose from. For example Magento, Prestashop, Shopify, BigCommerce, OpenCart, 3dCart, osCommerce, WooCommerce, WP eCommerce, Drupal, Spree, and so on.
To make the process of dropshipping ecommerce platform selection much easier, we would like to suggest you compare these platforms based on 5 fundamental criteria:
Setup time and cost
Ecommerce Features
Ease of Use
Scalability
Support
In this blog post, we will compare the five most popular ecommerce platforms for dropshipping using the above factors. Let's get started!
WHAT ARE THE TOP ECOMMERCE PLATFORMS FOR DROPSHIPPING BUSINESSES?
Needless to say, Magento has become one of the most powerful ecommerce platforms for dropshipping up to now. There are two versions (Magento 1 and Magento 2 – highly recommended) and two editions (Magento Open Source – free and Magento Commerce – premium) for the owner to choose from.
Setup time and cost: As we have mentioned, there are two Magento editions but the free (open source) one is enough for starting a dropshipping business. However, it requires strong technical knowledge to develop a Magento dropshipping website so that you might need to hire Magento developers. And obviously, it costs. In general, you will have to invest from $3,000-5,000 and spend 1-3 months for Magento website development. Contact us to get a detailed quote for your Magento dropshipping web development project.
Ecommerce features: It's true to say that Magento provides everything a dropshipping business needs, and even more. By default, a Magento website has fast page load speed, easy and smooth checkout, nice product and catalog page, SEO and marketing tools, comprehensive site management, and high security. Find out more Magento ecommerce features here.
Ease of use: On the front-end, Magento websites are very user-friendly. On the contrary, on the back-end, it might be quite complicated for the admins who are just beginners without technical knowledge. However, after a short time experiencing Magento websites and thanks to detailed Magento user guides, the store owners can monitor their sites effectively and professionally.
Scalability: Magento is the most scalable ecommerce platform for dropshipping among top five. It not only enables you to create a great website from scratch with a small number of products but also supports you when your business grows. You can add an unlimited number of products, catalogs and handle a boundless number of orders.
Support: Since Magento is a widely-used ecommerce platform, there is no difficulty to seek assistance either from Magento officials, Magento community (forum), or even Youtubers who post Magento tutorials on Youtube channel. Apart from it, if you can't find help from those sources, let's think about hiring a trusted Magento agency to provide you with support packages.
In order to integrate dropshipping functionalities into a Magento website, you will need to install a third-party extension ($0-950).
Another popular ecommerce platform for dropshipping is WooCommerce. If what you expect for your store is just very basic functionality and ease of use, WooCommerce might be an ideal solution.
Compared to Magento, WooCommerce has fewer advanced ecommerce features; in return for that, it is more user-friendly for the beginners. However, from the developers' point of view, this platform is difficult to customize and most of its functionalities must be acquired by third-party plugins.
Setup time and cost: Actually, WooCommerce is just a free plugin of WordPress framework. Therefore, you will need to develop a WordPress website first and then install the WooCommerce plugin on your store. In general, it will take less time to build a WooCommerce (WordPress) website than a Magento one if you were a developer. Therefore, if you are a non-technical user, you might still need the help of website programmers. Besides, a WooCommerce website cost is often in the range of $1,500-3,500; but if you require a lot of advanced features, you will have to spend significantly more for the plugins and customization. Contact us to get a detailed quote for your WooCommerce dropshipping web development project.
Ecommerce features: Your WooCommerce website will be equipped with basic and fundamental ecommerce features such as product, catalog and inventory management, pre-installed payment gateways, geolocation support, auto taxes, and shipping calculation, multiple shipping methods, discount and coupon codes, sales report, and so on. If you want to upgrade your site, there are more than 75,000 WooCommerce plugins for you to select from.
Ease of use: Thanks to the simple, intuitive and clean user interface, WooCommerce is pretty easy to use even for the newbies. Moreover, WooCommerce user guide (WooCommerce Docs) is very comprehensive, which is a valuable source for the store owners to manage their site effectively.
Scalability: It seems that WooCommerce is more suitable for small dropshipping businesses. If you are running a medium to large ecommerce store, let's go with Magento. When the number of products on your WooCommerce site increase, its performance will be affected negatively.
Support: When there is a problem, you can find the solutions by searching on Woo documentation or contacting Woo support.
Similar to Magento, to integrate dropshipping function to a WooCommerce website, you will need to install a third-party plugin (starting from $49).
The third name on the list of best ecommerce platforms for dropshipping is Shopify. Up to now, Shopify has empowered nearly 600,000 ecommerce stores around the world, included dropshipping businesses. Especially, Oberlo, a dropshipping plugin works exclusively on Shopify, will help you to find products to sell from Oberlo Verified suppliers, Oberlo suppliers, or AliExpress suppliers.
Setup time and cost: Different from the second above ecommerce platforms for dropshipping, you have to pay Shopify a monthly fee to use the platform, which ranges from $29 to $299 per month. Besides, you might have to buy the theme for the website. Although there are 100 Shopfiy themes for you to select, only 10 of them are free. Apart from it, it's worth noting that Shopify will charge you a certain amount per sale if you integrate an external payment gateway instead of Shopify Payments. Regards time for setting up the website, this is a big advantage of Shopify. It will take only a few hours or days to create a new Shopify store.
Ecommerce Features: Overall, Shopify provides quite a lot of useful features for dropship ecommerce stores, from theme settings, products, orders and customers management, payment with credit card, multiple taxes, languages and currencies, unlimited hosting, search engine optimization, and so on. In the previous blog post, we made a comprehensive comparison between Magento and Shopify, you can read here.
Ease of Use: If you are technically unsavvy, Shopify might be a good option. It does not take a lot of time for you to get used to this platform. To create the website, you just need to sign up, select a package, choose a favorite theme and start customizing it.
Scalability: Shopify is a scalable platform, you can easily scale up or down your business by choosing an advanced package.
Support: Shopify offers multiple support channels – via email, phone, live chat, forum. However, some users complained that the live chat was actually just an automatic robot system that can't help to solve our issues but gathering our email address so Shopify team can send a response later.
OpenCart is a free ecommerce platform for dropshipping that you should take into consideration. Magento and OpenCart also share many similarities – free, open source, powerful, and more appropriate for tech savvies than the beginners. However, since Magento community is larger and far more robust than that of OpenCart, and there are more themes and extensions for Magento, OpenCart is less popular.
Setup time and cost: OpenCart is open source and free to acquire. Furthermore, you will get lifetime free support and free software updates when selecting OpenCart as your dropshipping ecommerce platform. Therefore, the major cost comes from hiring website developers and designers to build your store. Besides, it will take from 2-5 months for your website developments.
Ecommerce Features: Here are OpenCart highlights in terms of ecommerce functionalities – unlimited products and categories, multi-currency support, integrated payment gateways, various shipping methods, coupon creation for marketing, available backup and restore tools, detailed sales report, and so on.
Ease of Use: OpenCart is preferred for whom have a certain level of website development experience and website setup. However, it does not mean that OpenCart is hard for the beginner to learn how to use the platform, thanks to the user-friendly and clean interface.
Scalability: This is not a plus of OpenCart. This platform is definitely more suitable for small to medium e-commerce businesses.
Support: To get support from OpenCart, you can get in touch with them by creating a ticket or sending an email to the support team. Moreover, you can join OpenCart forum to ask other members for help.
There are several OpenCart dropshipping extensions on the market, starting from $99.
The last suggestion in the list of ecommerce platforms for dropshipping is BigCommerce. Up to now, there are over 50,000 ecommerce websites running on BigCommerce worldwide. Like Shopify, BigCommerce provides several monthly options, ranging from $29.95 to $249.95 with acceptable transaction fees.
Setup time and cost: As we have mentioned, BigCommerce offers three packages (Standard, Plus, and Pro). Also, it provides an enterprise version with undisclosed price so you must contact the BigCommerce team to know their custom pricing. Besides, it is quick and easy to set up a BigCommerce website. What you need to register an account, select a template and start customizing your store. There are 15 days for trial, after that, you must buy a specific package.
Ecommerce Features: BigCommerce provides all necessary ecommerce features for you to start with, such as order and inventory management, products and catalogs creation, supported multiple payment gateways, marketing features, integrated with ShipperHQ and ShipStation for shipping, and Avalara for tax automation, etc.
Ease of Use: For most of the hosted ecommerce solutions including BigCommerce, it is not complex for the newbies to use. After selecting a proper theme, you can easily customize it as you want without strong technical knowledge.
Scalability: Owing to different monthly plans, there is no difficult for you to scale up your fast-growing businesses when choosing BigCommerce ecommerce platforms for dropshipping.
Support: Both Shopify and BigCommerce ecommerce platforms for dropshipping provide support via email, live chat, phone, and forum. Another way for you to seek support is finding the solutions yourself with BigCommerce Resource Center.