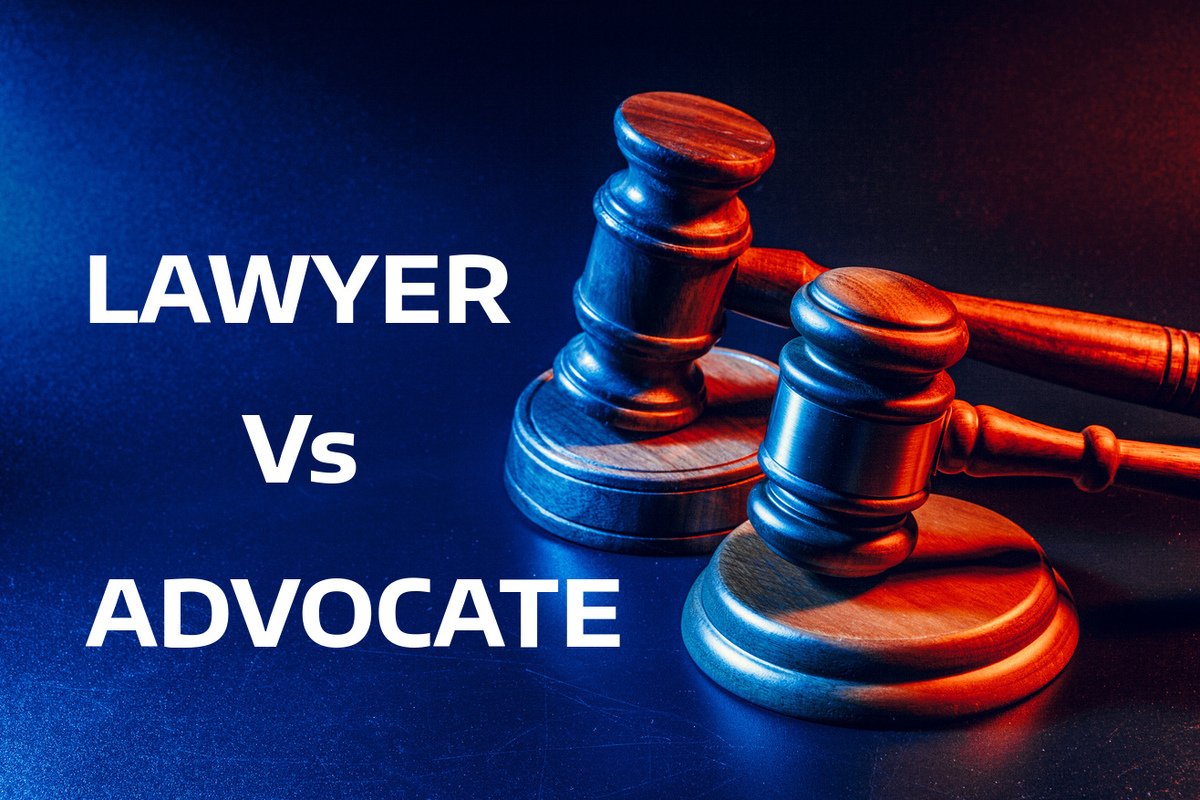 The words "Lawyer" and "Advocate" are frequently used in the legal world as synonyms.
It is important to note that the meanings of these words can differ.
This article will discuss the meanings of these two words. The article will explain when Advocate is appropriate and when Lawyer is appropriate.
What is a Lawyer?
A lawyer is a basic term for anyone who holds a law degree. There are many types of lawyers: advocates, attorneys and solicitors. All of them are specialists in different areas of law. Sometimes, a lawyer may not be eligible to represent a client in court.
What is an Advocate?
Advocate is a term that refers to a lawyer. A person who holds a law degree is eligible to represent his/her client in court.
Section 2(1) (a) of Advocates Act 1961 defines "Advocate" as
Advocate" refers to an Advocate who is entered in any roll pursuant to The Advocate Act 1961.
Basic Difference:
It can be stated that Advocates are lawyers, but not all Lawyers.
After a student has completed his law degree, he must take an exam administered by the All India Bar Association. The student is awarded 'Sanad' after passing the exam. Sanad is the qualification to practice law in India's courts. A Law graduate with a Sanad can become an advocate.
Many lawyers also work in the corporate field. A Law Graduate who wants to work in corporate fields must surrender his Sanad. Corporate Law Graduates cannot appear in courts of law. Therefore, Corporate lawyers cannot be called Advocates.
Other Differences:
For more information, see the table differences between Lawyer and Advocate
Lawyer
Advocate

The term "lawyer" is very broad and can be used to refer to anyone with a degree in law

An Advocate, on the other hand is a Law graduate who has been enrolled in the bar council and is eligible to represent his client at the court of law.

Bar Council of India doesn't regulate the conduct of lawyers

Bar Council of India regulates the activities of Advocates

.

Most lawyers don't have courtroom experience and have a lot of academic experience

Advocates are Court Experienced and can effectively handle cases.

Lawyers are able to work in any industry or profession.

Advocates are not allowed to engage in any profession or business.

 

They can, however, be a partner in a business or firm.

Lawyers may be engaged in full-time academic activities like Teaching.

Advocates can also be involved in academic activities, but not full-time.
Conclusion:
An Advocate is a lawyer who can represent clients in court. Advocates cannot be called a lawyer who isn't eligible to represent clients in court. Advocate represents his clients in court. Advocate is a type of Lawyer. Hence, all advocates are lawyers but not all Lawyers.
Solomon & Co Advocates and Solicitors is a full-service law firm headquartered in Mumbai, the financial and commercial capital of India, with offices in Mumbai and Pune. Founded in 1909, the firm is ranked amongst the most reputed law firms in the country.
The firm provides high-value legal services across a broad range of practice areas, including Corporate, Mergers and Acquisitions, Business and Trade, Banking and Finance, Capital Markets, India entry, Private Equity, Dispute Resolution, Real Estate and Construction, Insurance and Intellectual Property. Since its inception, Solomon & Co. has been advising Indian and international companies, government organizations and individuals on their most challenging transactions. Our clients range from global banks, investment funds and high net-worth individuals to not-for-profit organizations. Solomon & Co. is a member of Alliott Global Alliance in Mumbai, Pune and Goa.