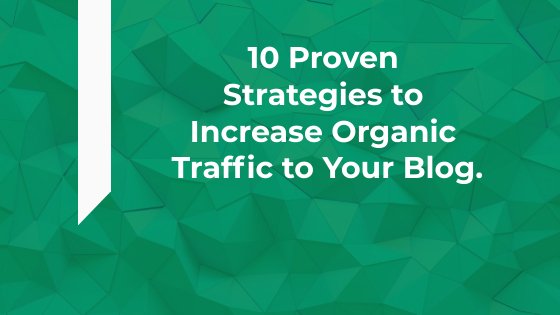 Have you spent hours researching and writing a blog post, built a masterpiece blog, added pictures, interlinked, and added affiliate links, and are hoping to drive incredible traffic from your blog posts, but have been disappointed every day?
if Yes! then don't worry! You are at the right place.
The following 10 proven methods can help you get more high-quality and consistent traffic to your blog post right now. This doesn't include waiting months or years for google to rank your post to start getting traffic.
Let's jump into those successful strategies for driving organic traffic to your blog.
Identify what your target audience wants to know:
Just type a word into Google search followed by a letter. For example, you write about marketing. Then type "Marketing a" and see what Google suggests to you. Do this for every letter, and you get plenty of ideas about what to write about.
Find long-tail keywords without less competition
When you find some ideas, again type them into google and look for the "People also ask" section. Here, you'll see what kind of questions people have about your topic. If you find a question you like, type it into Google Search again and analyze the results.
If you see forum sites or random sites without authority on the top. Great, you found yourself a great candidate for a blog post. The keyword you'll be targeting is the exact question people asked.
Long-tail keywords based blog posts
You write blog posts targeting exactly the questions you identified before and wait for the SEO to kick in.
In Google, backlinks are a very important ranking factor. The importance of your article depends on how many backlinks you have and how much DA/DR those backlinks have. Backlinks are harder to get than crosslinks (obviously), but they are gold for your search engine ranking.
Crosslink Your Posts
Interlinking your content allows Google to index and understand your content quickly. When you crosslink, you are linking to older blog posts from your new posts, and you can control the linking. Give great stress on adding as many links to your main content as possible, so it has an easier move to get ranked quickly in the search engines.
Publish new and fresh articles regularly
Google likes fresh and new articles. Nevertheless, if you are new to content writing, you can reuse previous posts instead of writing a new one. Freshen them up after detailed research. Here's how you can revive an old subject:
Add new facts and improve the old content

Add more updated and new images/screenshots

Delete any outdated information

Add such keywords which are related to your main keyword
Optimize for the snippet to rank fast
Write down the question you're answering in a separate paragraph in your blog post. Then write down the exact answer in a separate paragraph.
Create Space on Free Search Engine Sources
Quora: Create a space on Quora, post something daily related to your product/service, start answering people's Questions, etc. When Time is right, start linking your posts/answers to your blog. Overtime you can easily read people to any of your blogs
YouTube: Open a YouTube channel and start posting videos to share your content with people searching for your answers to their questions. In your video description, include links to your blog post.
Tumblr: Tumblr allows you to create a blog inside tumblr and you can simply paste your post' link for people to see. They can either choose to read a few information displayed or read the full article on your blog.
Reddit: Create a Community on reddit and start adding value already. It's not hard to do.
Pinterest: Pinterest, like YouTube, is a search engine. The only difference is that Pinterest is a visual one. Once you sign up, you can start creating Pins with information linked to your blog.
Better engage on Social Media Pages: 
Social media pages have significant contributions to Growing your Online presence. Make good use of them. Go on and open a TikTok, Instagram accounts, Fb Groups, etc 
Paid marketing 
All search engines and advertising platforms help you to promote your blog site. If you have money, do invest in those platforms to help you reach to the maximum audience.
The key to getting more followers isn't putting up as many blogs as possible; it's about finding creative ways to engage them. Create the best content for the user first (with search engines in mind), and you'll have traffic. Turn that traffic into leads and customers, and you'll have revenue.