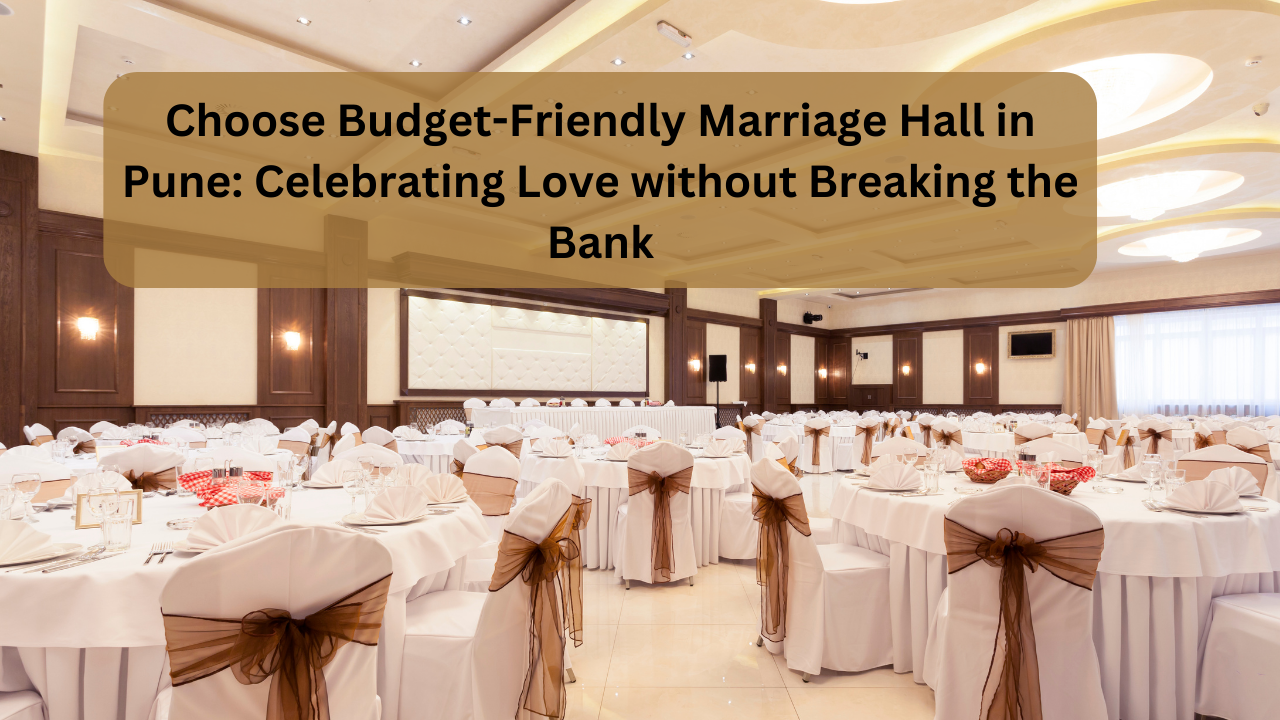 Your wedding day is a magical event, but it can also be quite expensive. Many couples worry about how to plan a beautiful wedding without spending a fortune. The good news is that it's entirely possible to celebrate your love in style without breaking the bank. In this article, we'll explore the world of budget-friendly marriage halls and share tips on how to have an affordable yet wonderful wedding.
Start with a Budget
Before you begin searching for a marriage hall, sit down with your partner and create a budget. Decide how much you're willing to spend on your wedding. This will help you stay on track and avoid overspending.
Guest List Management
The number of guests you invite can significantly impact your wedding budget. Be mindful of your guest list. Invite only close friends and family to keep costs down. Smaller weddings can often be more intimate and enjoyable.
Off-Peak and Weekday Weddings
Choosing an off-peak wedding date or a weekday can save you a significant amount of money. Many marriage halls offer lower rates for events held on less popular days or during the off-season.
Local and Community Centers
Consider local community centers, parks, or social halls as potential wedding venues. These places often charge lower rental fees compared to traditional wedding venues.
DIY Decor and Planning
Get creative and consider do-it-yourself (DIY) decorations and planning. You can save a lot of money by making your own centerpieces, invitations, and even handling some of the planning yourself.
Affordable Catering Options
Rather than going for a high-end caterer, explore affordable catering options. You can opt for a in house caterer, buffet-style meal, food trucks, or even a potluck-style dinner where family and friends bring dishes to share.
Use Your Network
Don't hesitate to reach out to friends and family who might be able to help. Someone you know might be a talented photographer, musician, or decorator, and they might offer their services at a lower cost or even as a wedding gift.
Minimalist Approach
Embrace a minimalist approach to your wedding. Simple and elegant themes often cost less than extravagant ones. Sometimes, less is more.
Negotiate and Compare
When you find a marriage hall you like, don't be afraid to negotiate with the venue owners. Also, compare quotes from different halls to find the best deal.
Conclusion
Celebrating your love doesn't have to put you in debt. By following these tips and getting creative, you can have a beautiful and memorable wedding without breaking the bank. Remember, it's the love and commitment that truly matter on your special day, not the size of your wedding budget. 
If you are planning your wedding in Pune, choose the best marriage hall in Bibwewadi Pune, and enjoy your budget-friendly wedding and create lasting memories with your loved ones.
You may also read : Selecting Only The Best :Types of Wedding Halls in Pune