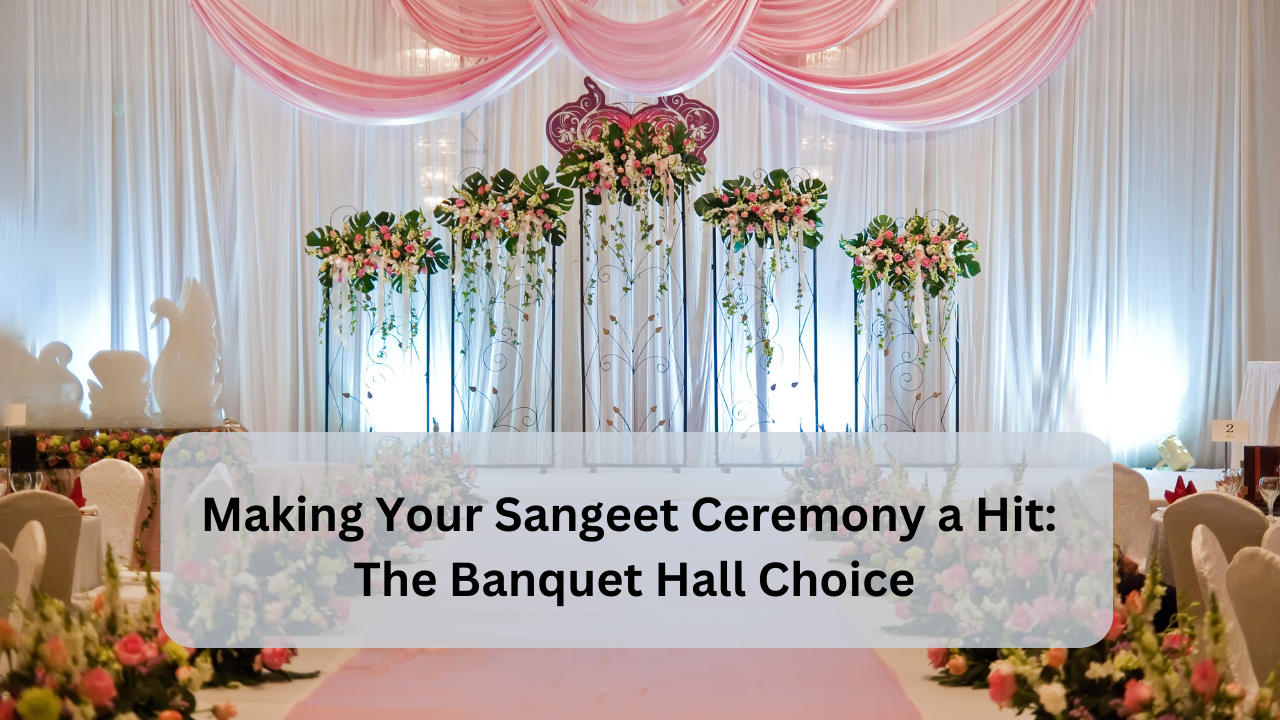 The Sangeet ceremony is a cherished and joyous tradition in Indian weddings. It's the time when families come together to celebrate with music, dance, and merriment. To ensure that your Sangeet ceremony is a hit and leaves lasting memories, one of the most crucial decisions you'll make is choosing the right banquet hall. In this article, we'll guide you through the process of selecting the perfect banquet hall to host a Sangeet ceremony that your guests will talk about for years to come.
Location
The first and foremost consideration when choosing a banquet hall for your Sangeet ceremony is its location. The venue's accessibility should be convenient for your guests, particularly if they're coming from different parts of the city or even from out of town. Make sure it's easy to reach by car or public transportation.
Space and Capacity
Another essential aspect to consider is the space and capacity of the banquet hall. You want a venue that can comfortably accommodate all your guests without feeling cramped. Ensure that there's enough room for a dance floor, seating for guests, and a stage for performances. Ask the banquet hall staff about the seating arrangement and flexibility to meet your specific needs.
Ambiance and Decor
The ambiance and decor of the banquet hall play a significant role in creating the right atmosphere for your Sangeet ceremony. The decor should align with the theme or style you've chosen for the event. Whether you want a traditional, elegant, or contemporary setting, the banquet hall should be able to transform its space to match your vision.
Sound and Lighting
An integral part of the Sangeet ceremony is the music and dance performances. Ensure that the banquet hall has the appropriate sound system and lighting facilities to make these performances shine. Clear acoustics and adjustable lighting can make a huge difference in the overall experience.
Catering Services
Food is an essential element of any Indian celebration, and your Sangeet ceremony is no exception. Many banquet halls offer in-house catering services, which can save you time and effort. Make sure the venue can provide a diverse menu that caters to your guests' tastes and dietary preferences. You might want to arrange for a tasting session to ensure the food meets your standards.
Parking and Accommodations
Consider the parking facilities available at the banquet hall. Sangeet ceremonies tend to have a high guest turnout, so ample parking space is vital. Additionally, if you have out-of-town guests, inquire about the availability of nearby accommodations and transportation options.
Budget
Your budget is a significant factor when choosing a banquet hall for your Sangeet ceremony. Make sure you have a clear understanding of the venue's pricing structure, including any hidden costs, before finalizing your decision. Be prepared to negotiate or seek alternative options if the banquet hall exceeds your budget.
Reputation and Reviews
Before making a decision, do your research. Read reviews and seek recommendations from friends and family who have hosted Sangeet ceremonies. A reputable banquet hall with positive feedback will likely meet your expectations and ensure a memorable event.
Conclusion
Selecting the right banquet hall for your wedding and sangeet is a pivotal step in making your Sangeet ceremony a hit. Take your time to research and visit multiple venues, and don't hesitate to ask questions. Remember, the perfect banquet hall should align with your vision, accommodate your guests comfortably, and provide all the essential services to make your Sangeet ceremony a resounding success. 
If you are planning your sangeet in Pune, you can choose the best sangeet banquet hall in Pune and make your sangeet ceremony perfect. With careful planning and the right venue, your Sangeet ceremony will be a night to remember for both you and your guests.