Are you a parent or guardian residing in Mumbai and searching for the perfect robotics course to ignite your child's interest in technology and innovation? Look no further! In this article, we will delve into the top 5 robotics courses designed specifically for kids in Mumbai. These courses offer an engaging learning environment where children can explore the exciting world of robotics, learn fundamental concepts, and develop essential skills in problem-solving and critical thinking. Let's dive in and discover the best options available for your young aspiring engineers.
Top 5 Robotics Courses Company for Kids in Mumbai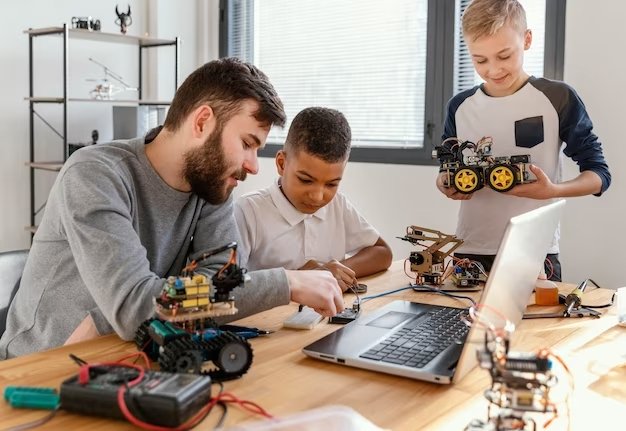 1. Technobotics
The Technobotics Company is a prominent organization specializing in advanced robotics technology and solutions. With a strong focus on innovation and cutting-edge research, Technobotics is at the forefront of developing intelligent robots for various industries and applications.
The company is known for its expertise in areas such as industrial automation, service robotics, healthcare robotics, and autonomous systems. They design and manufacture robotic systems that can perform complex tasks, improve productivity, and enhance efficiency in diverse environments.
However, today's education system falls short in various aspects such as poor inclusive knowledge, outdated-rigid methods and curriculum, negligible practical experiments exposure and so forth. Technobotics will serve your stepping stone from darkness to enlightenment. 
Address: Ground Floor, Edwankar House Navalkar Lane, Prathana Samaj, Charni Road, Mumbai, Maharashtra 400004
Phone No. 09833388717
2. RoboGenius Academy
RoboGenius Academy takes pride in being one of the leading institutes providing robotics courses for kids in Mumbai. With a strong focus on hands-on learning, this academy offers courses that combine theoretical knowledge with practical application. 
Through a series of interactive sessions, children learn to build and program robots, fostering creativity and analytical thinking. RoboGenius Academy is renowned for its dedicated instructors who provide personalized attention to each student, ensuring a nurturing learning environment.
3. Brainy Toys
Brainy Toys offers an array of robotics courses tailored to suit the learning needs of kids in Mumbai. From basic robotics to advanced concepts like artificial intelligence and machine learning, Brainy Toys provides comprehensive training to ignite young minds. 
With a curriculum designed to enhance logical reasoning and problem-solving skills, this institute empowers children to develop innovative solutions through robotics. The courses at Brainy Toys are delivered in a playful and engaging manner, making learning a delightful experience for kids.
Address: Holy Kids, Mangeshi Dham Tower, Kalyan(W), Kalyan, Maharashtra 421301
4. Young Engineers
Young Engineers is a renowned institute that specializes in introducing children to the world of robotics and engineering through interactive and engaging courses. The institute's unique methodology focuses on experiential learning, allowing kids to explore engineering concepts through building models and solving real-world challenges. 
With an emphasis on teamwork and collaboration, Young Engineers' courses foster creativity, critical thinking, and effective communication skills among young learners. The institute's commitment to hands-on learning makes it an ideal choice for parents seeking robotics courses in Mumbai.
5. Indian Robot Olympiad
Indian Robot Olympiad (IRO) is not just a competition but also an excellent platform for kids to develop their robotics skills. IRO offers workshops and training programs that prepare children for national and international robotics competitions. 
Through these courses, kids gain exposure to cutting-edge technologies, learn to design and program robots, and develop problem-solving abilities. IRO's training programs are conducted by industry experts and experienced educators, ensuring a high-quality learning experience for every participant.
Conclusion 
In conclusion, Mumbai offers a range of excellent robotics courses for kids, providing them with valuable skills and knowledge in this rapidly advancing field. The top five companies offering these courses are Technobotics, RoboGenius Academy, Brainy Toys, Young Engineers, and Indian Robot Olympiad. These companies are known for their expertise, innovative teaching methods, and commitment to nurturing young minds in robotics.
By enrolling in these courses, kids in Mumbai can embark on an exciting journey of exploration, problem-solving, and creativity, all while gaining a strong foundation in robotics. With the growing importance of technology in our world, these courses play a crucial role in preparing young learners for future careers and opportunities. Whether they aspire to become engineers, programmers, or simply have a passion for robotics, these courses offer a gateway to a world of endless possibilities.