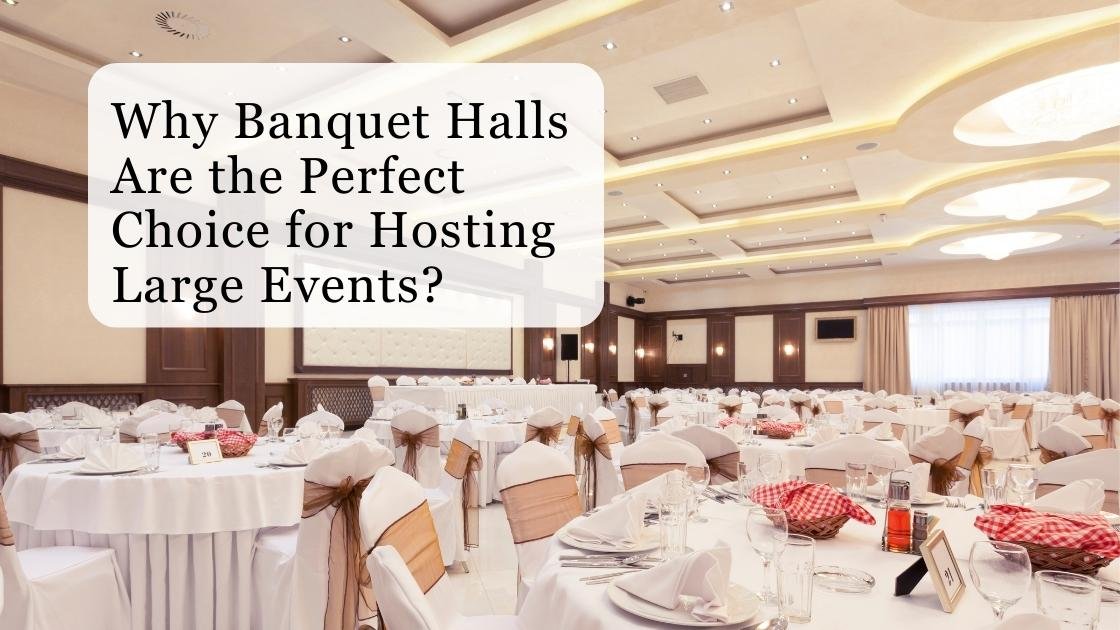 Hosting a large event is no small feat. Whether it's a grand wedding celebration, a corporate conference, a milestone birthday party, or any significant gathering, one of the critical decisions you'll face is choosing the right venue. Among the myriad options available, banquet halls consistently stand out as a preferred choice for hosting large events. In this article, we will delve into the reasons behind this preference and explore why banquet halls are indeed the perfect choice for those looking to make their large events memorable.
The Versatility of Banquet Halls 
Banquet halls are, by definition, versatile event spaces that can accommodate a wide range of gatherings. From elegant weddings to corporate seminars, cultural festivals to grand galas, banquet halls offer the flexibility to adapt to various event types. This adaptability is a significant advantage when you're dealing with guest lists that can range from a few hundred to several thousand.
Space and Capacity 
One of the most significant advantages of banquet halls is the ample space they offer. These venues are specifically designed to host large gatherings comfortably. They provide enough room for guests to move around, mingle, and enjoy the event without feeling cramped. Whether you're planning a wedding with an extensive guest list or a corporate conference with multiple breakout sessions, banquet halls have the capacity to cater to your needs.
Amenities and Facilities 
Banquet halls typically come equipped with a wide range of amenities and facilities that make hosting large events a breeze. These amenities may include professional sound systems, lighting setups, staging areas, and spacious dance floors. Some banquet halls even offer state-of-the-art AV equipment for presentations and entertainment. These facilities ensure that your event runs smoothly and leaves a lasting impression on your guests.
Professional Event Planning Support 
One of the significant advantages of choosing a banquet hall is the professional event planning support they provide. Experienced event planners who are well-versed in handling large-scale events are often part of the package. They can assist you in every aspect of event planning, from selecting the right layout to coordinating logistics and ensuring that everything runs seamlessly on the day of the event. This invaluable support allows you to focus on the content and experience of your event rather than getting bogged down in logistical details.
Customization Options
Banquet halls offer a high degree of customization. Whether you have a specific theme in mind or want to create a unique ambiance for your event, banquet halls can accommodate your vision. You can work closely with the venue's event planning team to choose decor, lighting, and layout options that align with your event's goals and aesthetics. This level of customization ensures that your event feels personalized and tailored to your preferences.
Technology and Audio-Visual Capabilities
In today's tech-savvy world, technology plays a crucial role in events of all sizes. Banquet halls are well-equipped with modern audio-visual capabilities, making them suitable for presentations, product launches, and entertainment. From large screens and projectors to professional sound systems, banquet halls provide the necessary infrastructure to ensure that your message reaches your audience clearly and effectively.
Catering and Culinary Excellence
Catering is a crucial aspect of any large event, and banquet halls excel in this area. They often have in-house catering services or established partnerships with reputable catering companies. This means you can expect a wide variety of menu options, ranging from traditional to exotic cuisines. Banquet halls take pride in their culinary excellence, and the quality of food and service they provide can elevate the overall guest experience.
Seamless Dining Experience 
Beyond offering delicious cuisine, banquet halls excel in delivering a seamless dining experience. They are equipped to handle large-scale dining efficiently, with well-trained staff ensuring that all guests are served promptly. This attention to detail contributes to guest satisfaction and ensures that the dining component of your event is a memorable one.
Specialized Cuisine
Banquet halls often offer specialized cuisine options, catering to diverse preferences and dietary requirements. Whether you're planning a vegan wedding reception, a multicultural corporate event, or a themed birthday party, banquet halls can customize their menus to meet your specific culinary needs. This versatility allows you to provide a memorable dining experience that suits your event's theme and guest preferences.
Parking and Accessibility
Another crucial consideration when hosting a large event is parking and accessibility. Banquet halls typically offer ample parking space, making it convenient for your guests to arrive and depart. This is especially important when dealing with a high volume of attendees. Additionally, many banquet halls are strategically located in areas with easy access to major roads and transportation hubs, ensuring that your event is accessible to all.
Location and Convenience 
The location of your event venue plays a significant role in its success. Banquet halls are often strategically situated in central areas, making them easily accessible to guests from different parts of the city or region. This central location can save your guests time and effort in reaching the venue, enhancing their overall experience.
Transportation and Shuttle Services 
Some banquet halls go the extra mile by providing transportation and shuttle services. This can be especially beneficial for events where guests are arriving from various locations or where parking may be limited. These services ensure that your guests can reach the venue comfortably and hassle-free, adding an extra layer of convenience to your event.
Conclusion
When it comes to hosting large events, banquet halls stand out as the perfect choice. Their versatility, spaciousness, amenities, and professional support make them ideal venues for weddings, corporate gatherings, milestone celebrations, and more. The ability to customize every aspect of your event, from decor to cuisine, ensures that your gathering is unique and memorable. Moreover, the technological capabilities and seamless dining experiences provided by banquet halls elevate the overall event quality. With ample parking, central locations, and even transportation options, banquet halls offer the convenience and accessibility that large events demand. When you're planning your next significant gathering, consider the many advantages of banquet halls to create an event that leaves a lasting impression on your guests. If you are located near Pune and looking for Banquet Hall then checkout Banquet Hall in Bibwewadi, Pune for all your needs.